Health
Gussi Keratin For Hair Treatment | Gussi Keratin Review of 2022




Gussi Keratin treatment can be done at home easily for hair treatment. This product is the best if you are looking for something which can be done by yourself for your smooth hair.
The process of hair treatment takes only 20 minutes. Consequently, it can save you time from your busy routines. As you don't have to stick long by applying the treatment in the salon. Firstly, it makes your hair shiny, frizz-free, fuss-free. Secondly, it makes your hair look attractive and healthy.
Gussi Keratin Treatment at Home
Why you should choose gussi keratin for your hair treatment? This is the most important and needed question that you should care about and know before applying it. Likewise, if you are looking for your treatment you should know why to choose it.
It makes your hair look smooth, shiny and glossy.
This does not fade so fast .lt lasts for more than 6 weeks.
Most importantly, it repairs damaged and dry strands of your hair.
Takes less time in comparison to other treatment
It's color-safe
Formaldehydes is absent and it is produced parabens, phthalates free
Gussi has no boundary to any type of hair. You can apply it to any type of hair texture like straight, curl, wavy or frizzy. No matter what types of hair you process you can freely apply it.
Any type of hair results as healthy, shiny and smooth according to your best suites. Specially in less time which lasts for more than a month.
Gussi Keratin Reviews
Gussi products are not so expensive in comparison to others products. Similarly it is applicable to every hair. Best gussi products are:
At-Home Keratin Treatment Kit
Gussi Bundle
Protection Plan Upkeep Shampoo
Protection Plan Upkeep Conditioner
At-Home Keratin Treatment Kit
This keratin treatment kit costs no more than $65.
Ingredients of Gussi Keratin Treatment Kit
Amino acids make your hair strong , rebuilds elasticity and most importantly it helps to repair split ends
It bonds injure cuticles, smooth fibers of your hair and helps to transmit reflective shine.
Moringa Oleifera (Moringa) Seed Oil
Damaged hair is nourished which strengthens the roots. It makes your hair more manageable as it fights against split ends and dandruff. It moisturizes your hair which contains anti-aging properties and Anti-microbial
It helps in improving blood circulation and reduces scalp inflaming and helps as antiaging.
They act as an antioxidant that boosts hair growth
Protection Plan Upkeep Shampoo
It helps to pamper hair and also helps to protect and repair damaged hair. It is available for almost $30.
Ingredients of Gussi keratin Treatment Shampoo
It is made with keratin providing ingredients like Sodium Cocoyl Isethionate, Disodium Laureth Sulfosuccinate, Cocamidopropyl Betaine, Acrylates Copolymer, Fragrance (Parfum), Sericin, Hydrolyzed Keratin, Hydrolyzed Soy Protein, Glycerin, Stealth-4, Polyquaternium-7, Polyquaternium-10, Quaternium-80, Dimethicone PEG-8 Meadowfoamate, PEG-12 Dimethicone, Glycol Distearate.
Protects hair forming a layer by providing strength and protection.
It increases elasticity with increasing moister
Protection Plan Upkeep Conditioner
It helps to add shine and add gussi treatment after applying shampoo. You should apply no more than 3 minutes and wash it with cold water.
Ingredients of Gussi keratin Hair Treatment conditioner
Hydrolyzed Protein

Panthenol

Hydrolyzed Soy Protein
Gussi Keratin Treatment Reviews
If the relation of your hair is very toxic with you.Best tip for you is to start keratin treatment for healthy and shiny hair. You can enjoy treatment at home with less investment. Most importantly you wont be visiting solan for any type of keratin tretment ever again.
There is no any boundary for your hair after applying it. Gussi donot concern about shower or sweat. Even you can tie you hair  right after treatment.
How to use Gussi keratin conditioner?
Firstly, apply Gussi squeaky clean priming shampoo with clean water and then dry your hair. Secondly, Divide your hair into 4 equal parts and apply to spray each section evenly. Use Gussi Smooth Operator keratin treatment for this and comb your hair thoroughly.
Eventually, rinse your hair lightly and leave a small amount of treatment on your hair and then dry your hair completely.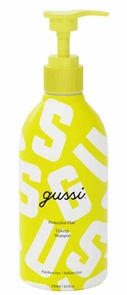 You can now enjoy freezy, shiny hair for more than 6 weeks.
Frequently Asked Questions
Is gussi safe for hair?
Yes, gussi is safe for hair as it does not contain formaldehyde, parabens, methylene glycol, and phthalates in its product.
How do you use gussi keratin hair treatment?
The treatment process is not similar to all types of hair. It depends upon length and thickness of hair. Long hair need one full treatment however, for short hair you can apply the product twice
Is gucci Suitable for all types of hair?
Of course, gussi is suitable for all types of hair. However, results may not be the same for all types of hair textures.
Can gussi be used on color treated hair?
Yes, you need not worry about your hair if you have color-treated it firstly. But somehow color may differ from the original shine.
How long does gussi last?
Gussi last for more than 6 weeks.